O Donnghaile award action a mistake: Martin McGuinnness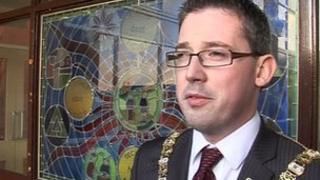 Sinn Fein's Martin McGuinness has said Belfast Lord Mayor Niall O Donnghaile's refusal to present an award to a young Army cadet was "undoubtedly a mistake".
He was replying to a question in the assembly from Ulster Unionist leader Tom Elliott.
On Monday night, Mr O Donnghaile apologised to the council for refusing to present the Duke of Edinburgh award to the teenager.
Mr McGuinness, the deputy first minister, welcomed the mayor's apology.
The Sinn Fein deputy leader said Mr O Donnghaile had made a clear commitment that the mistake would not be repeated.
He added that others "should resist the temptation to inflame the situation at Belfast City Hall".
On Monday night city councillors agreed to accept an apology from the lord mayor.
Mr O Donnghaile told the BBC that if he had caused offence then he was sorry. He repeated his apology to the council.
Loyalist protest
More than 50 loyalists protested outside while the council meeting took place at Belfast City Hall.
An Alliance Party amendment recognising the lord mayor's apology was passed by 29 to 19.
The unionists present voted against accepting the apology. They had proposed that the lord mayor promise not to repeat his snub of the cadet.
Sinn Fein councillor Jim McVeigh claimed that some loyalist protesters tried to intimidate councillors as they left City Hall on Monday night.
"There was masked men standing outside the city hall taking photographs of car registrations and screaming threats that they were going to have people killed," he said.
"We will be talking to the PSNI about this matter."
DUP Deputy Lord Mayor Ruth Patterson spoke to the protesters and urged them to express their views through the ballot box.
"The crowd at the back of City Hall were very receptive when I went out," she said.
"It is important that they come out and vote, otherwise, the unionist representatives that they want to work on their behalf have limited numbers within councils."
Speaking after the meeting, the leader of the Alliance group on the council, Maire Hendron, said: "What the lord mayor did was wrong and deeply offensive but he did apologise last week, an apology that was accepted by the young army cadet's family and the Alliance group accepted it.
"In light of the apology, I proposed an amended motion that accepted the apology and reaffirmed the council's commitment to promote good relations and the lord mayor's commitment to serve all the people of Belfast.
"This episode shows the need for us to move forward and agree to a shared future."