Jazz Babies - rare self portrait of Jack Yeats auctioned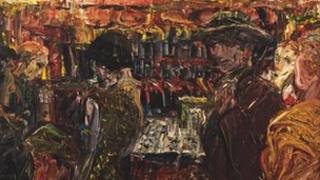 A collection of four recently discovered Jack Yeats paintings has been auctioned for almost 700,000 euros.
The most expensive lot 'Jazz Babies' sold for 480,000 euros.
It was last seen in public over 40 years ago and features a rare self portrait of the artist.
Jack Yeats is the brother of poet WB Yeats and is widely recognised as one of the most significant Irish artists of the 20th century.
The painting was bought at Adam's auction house by an Irish phone bidder who wished to remain anonymous.
'Evening, Kildare', which was formerly in the collection of George Bernard Shaw, sold for 36,000 euros.
'The Princess of the Circus' sold for 52,000 euros and 'The Unforgetting Background', which was last exhibited in 1949, made 130,000 euros.
A gold pocket watch and chain, belonging to a past superintendent of Prospect Cemetery, Glasnevin - which was specifically mentioned in James Joyce's Ulysses - sold for 60,000 euros in the same auction.
The 18 carat gold hunter case watch and chain belonged to John O'Connell, who Joyce described as the cemetery 'caretaker' in the book when Leopold Bloom attends Paddy Dignam's funeral procession.
In September, Yeats' painting 'Fair Day in Mayo' sold for 1m euros.