Police Ombudsman search 'at planning stage'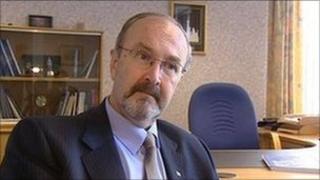 Almost seven weeks since Al Hutchinson announced he was to quit as police ombudsman the search for his successor is still at the planning stage.
Mr Hutchinson is due to step down as ombudsman in eight weeks' time.
He announced his desire to take early retirement 47 days ago, following a BBC Spotlight programme which identified serious failings in his office.
However, the search for his successor has yet to formally begin.
The responsibility for the appointment lies with the first and deputy first ministers.
In a statement to BBC Newsline, the office of the first and deputy first minister said arrangements for finding a successor to Al Hutchinson are "at the planning stage".
BBC Newsline understands that discussions about the recruitment process are well advanced and the position may be advertised shortly.
While Mr Hutchinson said he plans to leave office at the end of January, well-placed sources said it could be next summer before a successor is appointed.
If that is the case, the ombudsman is expected to delegate his authority to someone else within the office before he leaves.
That means the office will be able to function while the recruitment process is completed.
Acting chief executive Olwen Laird is viewed as the person most likely to fill the position on a temporary basis.