Irish economy hitting Northern Ireland exports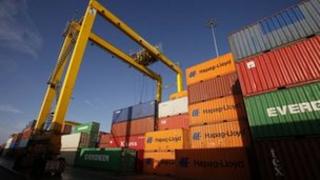 The weakness of the Republic's economy is continuing to hit Northern Ireland exporters, official figures suggest.
The annual survey of NI manufacturing sales and exports shows that total sales to to the Republic fell by almost 16% in 2010/11.
That follows a fall of 8% the year before and brings the level of exports to just below reported 2004/05 levels.
Almost a quarter of NI manufacturing exports go to the Republic, representing sales of £1.2bn.
The Republic's own export sector is growing but its domestic market remains weak as consumers deal with debts, tax rises and spending cuts.
Earlier this month the Economic and Social Research Institute forecast that the Irish economy will grow by just 0.9% in 2012, a downgrade from its previous prediction of 2.3% growth.
The NI export survey, carried out by the Northern Ireland Statistics and Research Agency, found that total sales by manufacturing companies in Northern Ireland were estimated to be worth £15.9 billion in 2010/11.
That represents a slight annual fall in real terms.
Almost 80% of sales were made to customers outside Northern Ireland, mostly to Great Britain.
Aside from the Republic of Ireland, the main export markets are the US, Switzerland, France, Germany and the Netherlands.
The biggest export sector is food, beverages and tobacco.