250,000 people in Northern Ireland get one-off fuel payment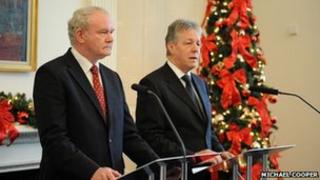 More than 250,000 people in Northern Ireland are to get a one-off fuel allowance payment, the executive has said.
Cancer sufferers, pensioners and unemployed people are among those who will benefit.
Payments are set to total about £23m and the initiative will be discussed at Thursday's executive meeting.
Recipients will be determined by a 'qualifying week' in December and payments are to be issued in February.
The payments include:
£100 to those in receipt of Pension Credit;
£100 for those receiving cancer treatment;
£75 to those in receipt of Income Support;
£75 to those in receipt of Employment Support Allowance income related;
£75 to those in receipt of Job Seekers Allowance income based
"The delivery of a fuel poverty initiative this year was identified by the executive as one of our most pressing issues," First Minister Peter Robinson said.
"Those who are struggling to keep their homes warm this winter will draw comfort from this decision."
Deputy First Minister Martin McGuinness added: "This additional one-off payment towards household fuel costs will be universally welcomed by those who are suffering most in these challenging financial times.
"Fuel poverty is very real in our society and the introduction and supporting of a range of initiatives aimed at reducing fuel poverty, is a key element of the draft programme for government."