Ulster Bank growing by 26% per year before crisis - FSA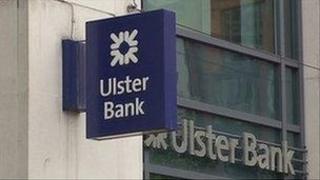 The official report into the failure of RBS has found that its Irish business, Ulster Bank, was growing at an annual rate of 26% in the years leading up to the financial crisis.
Only RBS's investment banking division was growing at a faster rate between 2004 and 2008.
The Financial Services Authority (FSA) report found RBS management focused too much on growth and not enough on risk.
RBS has cut 27,500 jobs since the beginning of the financial crisis.
It is now 83%-owned by the UK government
The figures on Ulster Bank shows that at the end on 2004 it had assets of £27.7bn which surged to £55bn by the end of 2007.
The report also highlights the significant part Ulster Bank's commercial property loans played in the bank's losses between 2008-2010.
During that period about a third of all RBS losses were incurred in various categories of lending related to corporate property.
£4.4bn losses
Within this property-related category, £4.4bn impairment losses were incurred in Ulster Bank between 2008 and 2010.
The FSA said this reflected "the scale of poor corporate property lending in Ireland, in which RBS participated".
Ulster Bank accounted for about two-fifths of commercial property losses in this time, despite only having made about one-fifth of the loans.
The report also shows how the Irish government's bank deposit guarantee of 2008 caused money to pour out of Ulster Bank.
On September 30 the Irish government said it would fully guarantee deposits of Irish owned banks, a category which did not include Ulster.
As a result people and companies moved their money from Ulster into guaranteed banks - the FSA data shows Ulster Bank lost the equivalent of £732m in deposits in the four days following the Irish government's announcement.