Retailers respond to threats on and off the high street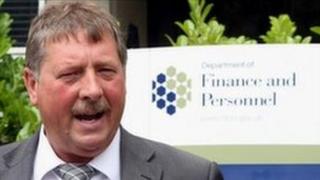 The decision by Stormont to press ahead with its scheme to tax big retailers and pass the money on to small traders will probably prove popular.
Those 9,000 small businesses who qualify for the 50% rates reduction will be particularly grateful.
But Stormont is raising the money by putting extra rates on the biggest retailers.
That comes as the latest sales figures show that - despite massive discounting - sales are falling on the high street.
The threat, it seems, is coming from online.
Weekly online spend in the UK has jumped a massive 44% in the last year to £797.9m.
Big, small, in or out-of-town - that's the real competition and threat to our stores.
On the first Saturday of December, Victoria Square in Belfast reported record business.
But it is bucking the trend. With so many customers now moving from the street to online, retailers are responding in different ways.
One sector which is growing on the high street is the bargain basement traders.
Poundland, which has only one obvious price point, saw sales grow 25% last year.
It opened 64 stores in the UK during the last financial year and is opening a further 50 this year.
Its chief executive Jim McCarthy said it is doing well because, not despite, the squeeze on incomes.
Their range of customers, he contends, now covers the entire social spectrum.
The loyal customers who always "needed the value" he said are joined by others who have more money and are looking for bargains.
But retail in Northern Ireland is under particular pressure.
Customer service
The property boom encouraged high rents. Now traders can't afford those rents and many are going out of business.
On the Lisburn Road, boutique and independent traders are fighting back with a renewed focus on service and collective action.
With help and funding from Belfast City Council they are developing a database of loyal customers and are considering a range of initiatives to draw people to the road.
Peter Carrington, chairman of the Lisburn Road Business Association, said they have got all the elements required for a vibrant area identified this week in the government-backed report by retail expert Mary Portas and the database would help target customers.
"With over 150 businesses along the road the system will actively gather data from every type of independent business, from world class private medicine to art galleries and fine restaurants, not to mention some of the finest fashion stores you could find," he said.
"The individual businesses are able to use their own portion of the database to market directly to their individual customers and the association will manage the 'what's on' side of things for the whole road so all businesses can benefit."
He said retailers needed to realise that they couldn't expect to do things the way they always had.
Things had changed, he said, for good.