Man sentenced to 12 years for child sex abuse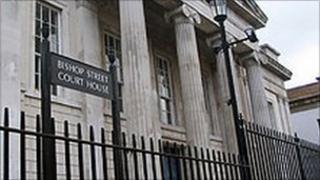 A 51-year-old man who subjected four child members of his family circle to a litany of sexual abuse and child cruelty has been jailed for 12 years at Londonderry Crown Court
The abuser, who committed the offences in Derry between 1983 and 2001, cannot be named because of the nature of the offences .
The defendant pleaded guilty to one charge of attempted rape, 26 charges of indecent assault and six charges of child cruelty.
It happened when he lived in the family home and it continued after he was made to leave the house by a relative.
The victims were two boys and two girls.
Judge Alistair Devlin described the abuse as violent, regular and systematic.
It involved the defendant locking some of his victims in their bedroom for so long that they urinated on the floor.
He also slapped and punched them, hit them with belts and sticks and kicked one of his victims when he was wearing steel-capped boots.
Judge Devlin read from the victim impact reports prepared for the court.
They ranged from attempted suicide several times and chronic psychiatric problems to alcoholism.
One victim said he felt "completely disadvantaged in life" and was "full of hopelessness".
Judge Devlin said the defendant had cynically abused his position of trust and power and revealed that the man had previous convictions for sexual offences and for violence.
He sentenced him to 10 years in jail, followed by two years on probation.
He was also placed on the sex offenders register indefinitely and barred from having unsupervised access to children for 10 years.
One of his victims was in court and sobbed as the sentence was handed down.