RAI call for charge for restaurant no shows in Ireland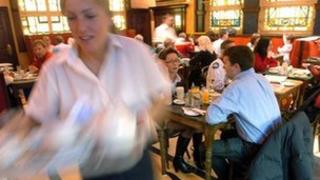 Like many other sectors in the Republic of Ireland, hospitality has been feeling the effects of the recession in recent years.
Many restaurants have closed their doors.
A survey by the Restaurants Association of Ireland's (RAI) members shows that one a week have closed this year.
For those still operating, it has been a busy time of year - catering for the Christmas party bookings.
While it is common place for restaurants to insist on a deposit for large bookings at Christmas, not all do so during the rest of the year.
The RAI said its members have seen an increase of around 15% in the level of cancellations across the country.
It now wants a deposit to become the industry standard.
The industry body is proposing introducing a 10 euros per person deposit for all bookings of four persons or more.
Adrian Cummins, RAI's chief executive, said they wanted to highlight to customers the impact of cancelled bookings.
"Restaurants will lose out on the income level of bought-in produce and brought-in staff on the night, staff may have to be let go early and they lose out also," he said.
"If you do book a restaurant please do ring them well in advance to say you're cancelling your booking."
No shows
Mr Cummins said the deposit system, which the RAI hope to introduce in 2012, will "counteract" any no-shows.
He said a deposit was standard in other industry bodies, such as hairdressers and dentists.
"We're following suit in the whole area of bookings, there are cancellation fees associated with those and we're just implementing what other industries are doing already."
The RAI will run a consumer awareness campaign using posters and the internet to inform customers of the change.
"Consumers don't actually know how tight the margins are in restaurants," said Mr Cummins.
"A restaurant making a good margin is about 4% at the moment, so a lot of them are just breaking even.
"They're trying to ride out the recession, they've invested their life savings into their business and there's a lot at stake, a lot of jobs at stake also."
Mr Cummins said consumers viewed eating out in a restaurant as a discretionary spend - "a luxury or treat item".
"We are seeing spends coming down by about 10% to 15% each year by consumers and prices have reduced on average by about 20% to try and get footfall in," he said.
"We're doing everything that we can and we are listening to consumers, changing and adapting our sector to suit the current recession."
Simon McCance, the owner of Ginger Bistro in Belfast, said he would not be following suit.
"That wouldn't suit my business at all in any way shape or form, I would never do it," he said.
Trust
"I do it at Christmas, I take £10-a-head deposit, so if eight of them show up I take the £100 off their bill. It is not a non-refundable deposit."
He said it was very important to have trust with his customer base.
"If somebody phones up and makes a reservation, they trust that we will have the table and I trust that they're going to come," he said.
"I do realise that sometimes people don't show but it is so minimal in Ginger. On a Saturday night, we might have one table for two no show.
"It could have an adverse affect on your business if it seemed like you weren't trusting anybody."