McGlinchey denies Massereene involvement claim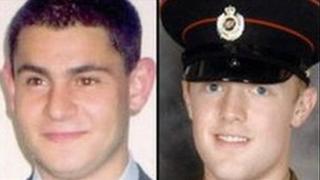 A son of self-confessed INLA killer Dominic McGlinchey has said he will make a formal complaint to the DPP and the Police Ombudsman about allegations made at the Massereene murder trial.
A defence barrister claimed the PSNI had "reliable information" to indicate that one of the McGlinchey sons drove the car used in the attack.
Dominic McGlinchey Jnr has denied the allegations.
He also described the claims as unsubstantiated.
During the trial of Colin Duffy and Brian Shivers, who are accused of killing Sappers Mark Quinsey and Patrick Azimkar outside Massereene barracks in March 2009, Barry MacDonald QC also said that police had questioned Dominic and Declan McGlinchey about the attack. Both were released.
In a statement issued through his solicitor, Dominic McGlinchey jnr said "that the belief disclosed by the PSNI to defence counsel is not supported by any forensic evidence".
He also said that he feared for his safety following the allegations.
Dominic McGlinchey Snr was a former leader of the INLA, who was murdered in 1994.
Mr Duffy, 43, and Mr Shivers, 46, deny any role in the murders of the two soldiers.
As well as the murder charges, Mr Duffy and Mr Shivers also both deny six charges of attempted murder and one of possession of guns and explosives.