Pensioner charged with sexually assaulting girl on bus to Holywood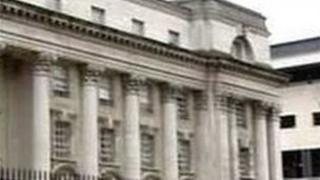 A schoolgirl was sexually assaulted by an 85-year-old man as she travelled home on a bus, the High Court has heard.
Prosecutors said the 12-year-old girl "froze" with fear after being wedged into position on a seat at the front of the Bangor to Holywood service.
Her alleged attacker claimed to have no memory of the incident on 14 December.
Thomas Todd, of Woodstock Road, Belfast, faces a charge of sexual assault on a child.
His application for bail was refused after a judge ruled that releasing him would pose too great a risk to children.
Mr Todd was said to have got onto the bus and sat at the front beside the girl even though plenty of other seats were free.
The court heard he then allegedly put his hand on her knee and began rubbing her leg.
Kate McKay, prosecuting, said the girl used a school folder to block further attempts.
The pensioner is also alleged to have grabbed the girl's hand and tried to pull it towards him.
Mr Todd claimed he had no memory of the incident because he had been drinking at a British Legion Christmas dinner.
Mrs McKay said: "He made comments to her such as 'You're a lovely girl, I'm sure all the boys are after you'.
He was also alleged to have told the girl he hoped to see her again next time.
"This girl said she was scared and froze. She didn't know what to do," Mrs McKay added.
"She has been traumatised by this and hasn't been able to travel on a bus since."
Police were alerted after she got home and told her mother what had happened.
It was disclosed during the hearing that CCTV footage of the alleged incident had been recovered.