Belfast Lough transfer of tanker's oil cargo delayed again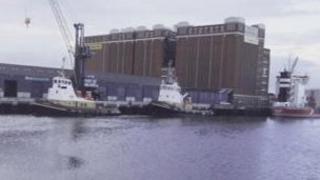 There has been a further delay in transferring the cargo of a damaged oil tanker which has been sheltering off the Copeland Islands.
The Genmar Companion has been anchored at the islands at the entrance to Belfast Lough after a crack developed in its upper deck on 16 December.
Its 54,000 tonnes of oil will be transferred at the mouth of the lough.
Transfer of the cargo, which could take between 24 and 36 hours, was due to begin on Saturday but was delayed.
The tanker was sailing from Rotterdam to New York when its deck cracked.
The Maritime and Coastguard Agency said preparations for the transfer of the oil to the BW Seine had been underway for several days.
The agency said stringent safeguards would be observed throughout the operation to assure the safety of the crew, the environment and other vessels in the area.
Genmar Companion will then enter Belfast Harbour for repairs.