Man arrested over gun incident at Debenhams shop released on bail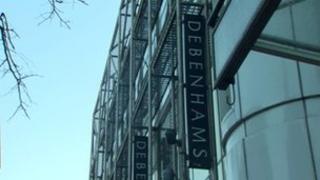 A 22-year-old man arrested after an incident involving a gun at Debenhams in Belfast city centre on Wednesday has been released on bail pending further enquiries.
Eyewitnesses said a man, who appeared to be carrying a rifle, threatened staff in the store at Castle Court.
Officers armed with taser guns arrested a man but did not use their weapons.
Police said they had received reports of a man behaving suspiciously at about 14:20 GMT.
A suspected firearm was recovered by police.