Terry Wogan reveals 'difficult times'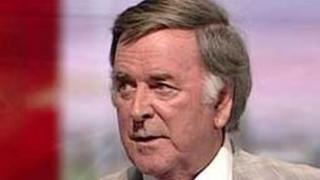 Sir Terry Wogan has revealed how "difficult" he found it appearing on radio at the height of the Troubles in Northern Ireland.
The Limerick-born broadcaster even had a parcel bomb sent to him at Broadcasting House.
He said on Radio 4's Desert Island Discs his producer picked the parcel up without realising what it was.
"Whoever sent in the bomb with my name on it cannot have been much of a fan because I was on holiday," he said.
The veteran broadcaster said he had "never apologised" for his nationality.
'Outstay welcome'
"What was being done was not being done in my name. It was very difficult, I was very conscious, for instance, you'd come up a cheery morning voice after some horrific bomb incident," he said.
Wogan presented the Radio 2 Breakfast Show for 27 years until he hung up his headphones in 2009.
He admitted he missed his old show but said it was best not to "outstay your welcome".
The star, who currently presents a weekend show on the station, said he would eventually retire altogether.
He said: "I'll fold my tent up silently and steal away one of these days."