SDLP leader Alasdair McDonnell plans ministry rotation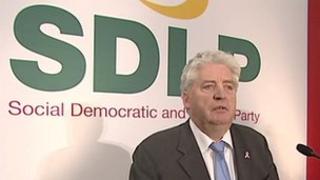 The SDLP leader Alasdair McDonnell has announced that the party's only Northern Ireland Executive minister will be changed next year.
The current Environment Minister, Alex Attwood, will be replaced by another member of the party.
The move is part of a plan by the SDLP to rotate the post every 18 months.
Mr McDonnell said it is not about a lack of faith in Mr Attwood, but about strengthening the party.
"The problem we have is we have one ministry and a chairmanship and a couple of vice chairmanships," he said.
"What people are saying to me is that they want the cake shared out and I'm intending to share it out.
"I'm saying very plainly at the beginning of the new year that I will be sharing the cake out and there's no implications in that positively or negatively."
The Irish News reports that Mr Attwood will be replaced in the summer of 2013.
It said a third minister would be appointed in January 2015.