UUP and SDLP's new year navel gazing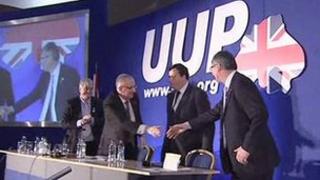 Anyone assuming 2012 would be the year during which the SDLP and UUP launch a collective fight-back against the DUP/Sinn Fein duopoly at Stormont won't have had to wait too long before having their expectations challenged.
Instead both parties appear to be involved in navel gazing.
The Ulster Unionists will tell you they had no choice but to reject the Conservatives' "generous" offer of a merger, with David Cameron as the leader of yet another 'new force'.
Tom Elliott told the BBC's Good Morning Ulster there could be no comparison between his party, with more than 100 elected representatives, and the local Tories, who attracted just 0.2% of the vote in May's local government elections.
The benefit of banishing the ghost of "UCUNF" is that, over time, the Ulster Unionists might feel less bound to defend unpopular Tory policies emanating from London. The downside is that they will lose a valuable source of financial support for fighting future elections.
If they are more cash strapped, the Ulster Unionists may find it increasingly hard to relinquish the rewards of ministerial office at Stormont.
Although some commentators believe the UUP should embrace opposition, such a course of action is easier when you have a friend with deep pockets.
The new local Conservative party will have to set about reorganising under its own steam.
Its local chair Irwin Armstrong told the BBC Talkback programme his office phone has been "red hot" with expressions of interest from potential members, eager for a new kind of politics.
However, we heard a lot of this talk during the "UCUNF" experiment, and we all know how that ended.
Although Tom Elliott says he's convinced the Conservative and Unionist MEP Jim Nicholson will remain an Ulster Unionist, this parting of the UUP-Tory ways injects added interest into the nominations for the 2014 European election.
Mr Nicholson has made no secret of his interest in standing again - if he does will he be a Conservative or an Ulster Unionist? And if both parties contest the election could that split the vote, providing an opportunity for their rivals?
Meanwhile, the new SDLP leader Alasdair McDonnell has ruled out opposition, instead concentrating on keeping his party colleagues satisfied by rotating the environment departmental job.
However, his comments on the need for a more generous pension scheme for MLAs alienated one of his own mayors, Brian Heading.
The Lisburn councillor told the Irish News he disagreed strongly with his leader and challenged the notion that any MLA could - on their retirement - be left living in poverty.
Dr McDonnell hit back, insisting Stormont should not be allowed to become a "millionaire's club".
His argument is that, historically, social democrats have always campaigned for politicians to have "decent pay and conditions" so that ordinary people should feel able to stand for election.
The new leader slammed "populist media witch-hunts". However, it's not just the media but one of his own councillors who has stoked up this latest debate.
Dr McDonnell will also have to convince the trade unionists who just last month described the existing Stormont scheme as a "Rolls Royce" pension.
Both Dr McDonnell's rotating ministry plan and his pledge to defend "decent wages for elected representatives" may prove attractive to MLAs, but aren't geared to appeal to voters.
Becoming embroiled in a battle with one of your own party members also doesn't sound like clever politics.
With 2012 just a few days old, neither the DUP nor Sinn Fein have done very much, but both parties have reason to feel satisfied with the way the year has begun.