Dissident republicans target soldier in attempted car bomb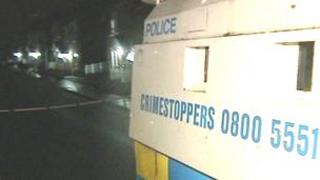 A bomb found in north Belfast had been left under the driver's seat of a car being used by a serving soldier.
The device was found at Blackdam Court off the Ligoniel Road, following a security alert which began on Thursday morning.
Dissident republicans are thought to have been behind the attack. About 60 residents were moved from their homes, but have since returned.
North Belfast MP Nigel Dodds described it as an "appalling incident".
"It was designed and targeted to kill a particular target, and it's emerged now, a serving soldier. This bomb was placed in an area which could have caused a lot of damage to property and the lives of residents.
"The people who carried this out were clearly intent on murder and entirely reckless as to who else would die along with their intended target."
Mr Dodds said the vigilance of the soldier had been "one of the main factors" in saving his life.
Sinn Fein MLA for the area Gerry Kelly described the car as a "party car".
"My understanding is that there was a number of parties going on and the driver of this car hadn't been to sleep. I think the car had been left open on a number of occasions," he said.
"We could be looking at a terrible tragedy. We could have been looking at not one death but a number of deaths this morning.
"It entirely endangered not just the soldier but the passengers who may have been in the car at different times during the night and also the community. That has to be condemned."
The security alert caused a lot of disruption for people living in the area.
On Thursday night, one resident said: "We can't get into the house, the child should be in bed. But the worst devastation is that if someone got hurt. Complete inconsideration for the locals."
Another local said: "The thought of a bomb in the street. Just scary, with the kids would have been out playing, sometimes, at that time of the morning."
DUP MLA William Humphrey said: "This was a very reckless indiscriminate planting of what seems to be a viable device in a built-up area."
The device was dealt with in a controlled explosion.
The area is no longer cordoned off.