Controversial breast implants not used in Northern Ireland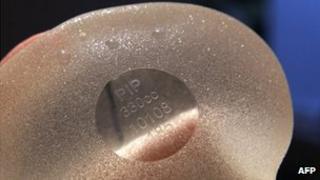 No woman who has undergone private or NHS surgery in NI has received sub-standard silicone breast implants, the chief medical officer has said.
However, Michael McBride said there may be some women living here who had implants fitted elsewhere.
In the UK 40,000 women have received the French-made PIP implants which sparked a health scare after reports that some had ruptured.
They were banned after they were found to contain non-medical-grade silicone.
The UK's Medicines and Healthcare products Regulatory Agency (MHRA) had indicated that its data suggested the risk of rupture was only 1%, rather than the 5% estimated in France.
Dr McBride said: "On our investigations to date, we understand that no woman who has had surgery in Northern Ireland, in either the health service or in private practice, has received PIP implants.
"We are working closely with the independent sector to identify local woman who may have received implants outside Northern Ireland.
"While this work is ongoing at the moment, we understand this number to be small.
"Anyone with concerns should contact their independent provider or the surgeon who carried out the procedure and seek advice.
"In situations where their implanting surgeon cannot see them, they should speak with their GP."