SoS asks parties for talks on past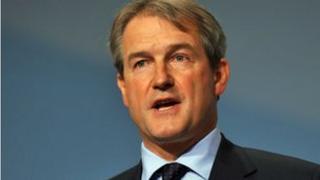 The secretary of state has written to Stormont party leaders asking for talks on how to deal with the past.
It is understood that the meetings would be bi-lateral, rather than all-party round-table discussions.
BBC Political Editor Mark Devenport said the letters, sent by Owen Paterson, were part of a "piecemeal approach" on how to deal with the past.
He also said there were doubts about the ability of a British government to chair talks on such a sensitive topic.
The SDLP's Alex Attwood said he would like to see the Dublin government involved in any discussions.
"When the British prime minister sent out the message, denying the Finucane family an inquiry into the murder of Patrick Finucane, they were sending out a deeper message that they would resist proper inquiries into the past," he said.
"In particular into the responsibility of people in the old RUC, the army, the security services into what went on here."
Sinn Fein has previously said it was not up to a British government to decide how the past should be dealt with.