Date is set for IRA tapes hearing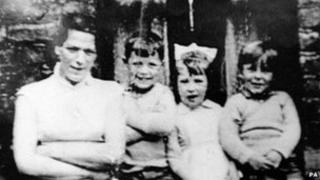 The US Department of Justice has decided not to oppose an application to postpone the handing over of interviews conducted with former republican paramilitaries to the PSNI.
A full hearing on the matter will now take place on 24 January.
The application had been made by those who conducted the Belfast Project for Boston College.
That was writer Ed Moloney who was the director and republican researcher Anthony McIntyre.
Last year, the PSNI launched a legal bid to gain access to interviews with former republicans and loyalists held by Boston College.
They are being sought by detectives investigating cases of people murdered and secretly buried by the IRA.
At the heart of the case is the 1972 IRA murder of Jean McConville.
US prosecutors have demanded anything in the Boston College archive relating to the death of the Belfast mother of 10, one of the so-called "disappeared".
Police in Northern Ireland are seeking accounts from former IRA members who accused Sinn Fein leader Gerry Adams of running a secret cell within the IRA that carried out the kidnappings and disappearance - something Gerry Adams has denied doing or having any knowledge of.
This is the first time police have tried to use the Boston College oral history collection to build criminal cases.
The college has already turned over tapes of interviews given by Brendan Hughes, a former IRA member who died in 2008. A subsequent documentary led to calls for the other interviews to be handed over.
Dolours Price was one of 26 former IRA members to give a series of interviews - between 2001 and 2006 - as part of the research study, called the Belfast Project.
Police want to hear her interview relating to the abduction and death of Mrs McConville.
Caveat
The material has already been handed over to a US court following an earlier ruling.
The people who Mr Maloney and Mr McIntyre interviewed spoke only with the caveat that the material would not be made public until after their deaths.
BBC journalist Andy Martin who has been following the case said: "The interviewees feel they have been let down by Boston College and by the American authorities. The college has a reputation as a centre of law and holds the documentation relating to the decommissioning of paramilitary weapons.
"Ed Moloney and Anthony McIntyre feel they have been let down and Anthony McIntyre feels that his life is in danger.
"Then, there is the victims' lobby which feels that the interviews should be handed over."