Sean Quinn bankruptcy judgement is due later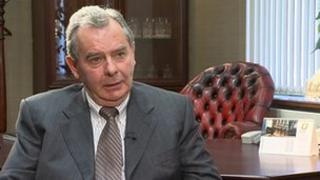 A judge is due to rule later on whether businessman Sean Quinn was entitled to file for bankruptcy in Northern Ireland.
He declared himself bankrupt in November.
This was over a multi-million debt he owes to the former Anglo Irish Bank.
The bank, now called IBRC, claimed Mr Quinn's 'centre of main interests' is the Republic of Ireland, thus rendering the NI bankruptcy invalid.
It said it was challenging the bankruptcy as it made dealing with Mr Quinn more complicated and expensive.
It said it would bankrupt him in the Republic of Ireland if the Northern Ireland bankruptcy was overturned.
The bankruptcy regime in the Republic of Ireland is much more onerous than that in Northern Ireland.
In the Republic, the period of bankruptcy lasts at least five years while in Northern Ireland it can be just one year.
At a hearing in the High Court in Belfast in November, a barrister for the bank said Mr Quinn is involved in "bankruptcy tourism."
He said that Mr Quinn's centre of main interests is Ballyconnell in County Cavan, where the businessman has his family home.
However, Mr Quinn claims his centre of main business interests is an office on an industrial estate in Derrylin, County Fermanagh.
In an affidavit, Mr Quinn said he was using the office in the village to work on unspecified new business opportunities.
Mr Justice Deeney is due to deliver judgement at 11:00 GMT on Tuesday.
The case is just one aspect of an international legal battle between the bank and Mr Quinn.
Litigation has been taking place in Ukraine, Russia, India, Sweden, Belize and the British Virgin Islands.