Beragh residents hear flood plans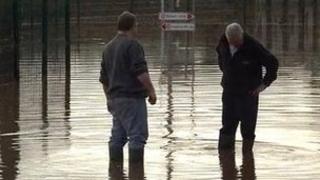 Residents in the flood-hit Tyrone village of Beragh have met staff from the Rivers Agency and Roads Service to hear about plans to protect the village.
The village was badly hit by floods in October.
The Cloughfin river burst its banks causing 17 homes to be evacuated.
Many of the people attending the meeting on Monday night have only been back in their homes for less than three weeks.
People had asked the Rivers Agency when work would be starting on flood defences, brought forward to next year.
The memories of 24 October, when their houses were flooded, are still very vivid.
Elaine Moses and her daughters were rescued from their house in The Meadows by boat.
"We've been going such a long time on these promises and we've never seen the work actually physically starting on the ground," she said.
"We want people to make their commitments and actually stick to them."
The Rivers Agency and Road Service are working together on plans to resolve the situation in Beragh, but the design of any flood-wall is not yet finalised.
Stephen Dawson, a Rivers Agency engineer, said: "We're very much in the early stages of developing the overall option and appraisal for the flood alleviation scheme.
"That is going to take time to be developed and we're exploring a lot of different ways of solving the problems here."
Early warning
Some solutions are already being implemented.
Overgrown shrubbery along the banks of the river is being cut back, to prevent water pooling in vulnerable areas.
A sandbag store has been set up in the village and an early warning system is being trialled.
It is hoped that it will be used to send a text alert if the river is at a dangerous level, allowing people time to do what they can to protect their homes.
An inspection has also been carried out to check for blockages in the river course.
Staff from the Rivers Agency told the meeting that there would be visible progress in the next few months.
A 200-year-old railway bridge is to be removed, but because it is historically valuable, it has to be deconstructed rather than demolished, and rebuilt at a site in Loughgall.
Meanwhile, work on the road bridge close to the Beragh Red Knights GAA club, which was also flooded, will not begin until next year.
Roads Service has also proposed adding footpaths, as well as widening and elevating the bridge. Engineers say that should also help relieve the flooding problem.
The residents will meet the agencies involved again later this year, when the flood defence design is complete.