Two Fermanagh schools to close in merger move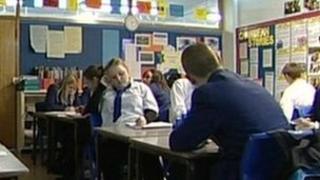 Two rural Fermanagh secondary schools are set to close following a review of post-primary Catholic education.
It recommends schools in Roslea, Derrylin and Lisnaskea merge to form a one school for the area south of Enniskillen.
The schools face falling pupil numbers, the need to offer a wider choice of subjects and financial viability.
St Comhghall's, Lisnaskea has 370 pupils while St Eugene's, Roslea and St Aidan's in Derrylin each have 170.
The three schools have sent out letters to parents saying they fully support the recommendation for one new school in rural south east Fermanagh.
The school principals said they had to take account of the educational and financial challenges and to make sure new arrangements were viable and sustainable.
In a joint statement, the principals said: "The future changes will take account of the needs of all pupils, those studying for examinations, pupils entering different year groups, pupils requiring additional educational needs, thus ensuring that the educational and pastoral needs of all pupils will be fully addressed.
"We have to take account of the educational and financial challenges facing educational provision in the foreseeable future and make sure new arrangements are viable, sustainable and fit for purpose."