Isaac Agnew takeover strikes a hopeful chord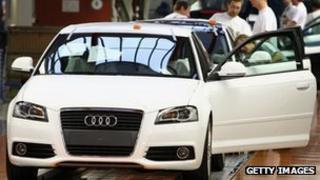 The number of companies that are bought over is often seen as a sign of a healthy economy.
Not businesses being bought after they have gone into administration, but healthy thriving businesses being acquired, or merging with bigger ones is often a sign that the company has potential for more growth.
Someone thinks it is worth investing in.
Having lots of mergers and acquisitions within an economy shows that there is lots of potential for growth and lots of active investment.
In 2011, Northern Ireland saw an incredibly low business acquisition rate. In fact things have been slow ever since the downturn.
There have of course been a few notable exceptions.
The Londonderry software firm Singularity was sold for £30m to the US firm Kofax.
Another US firm, Concentrix, took over the Belfast call centre GEM, and Tate & Lyle's molasses business was bought by Northern Ireland's W&R Barnett for £67m.
Franchise
This year seems to have started on a different note. The Isaac Agnew car dealership has just been bought over by the Sytner Group for an undisclosed sum of money.
Sytner say they are planning for staff to be absorbed into their own company and continue to work with the current senior management.
Isaac Agnew is already one of the UK's top 25 franchised dealers and operates 16 dealerships representing nine brands, but now they will be part of an even bigger empire.
Neasa Quigley, from the legal firm Carson McDowell, who acted for Sytner to complete the deal, said the move was a positive sign for the start of 2012 in Northern Ireland.
"This is a significant landmark deal in terms of Mergers and Acquistions in Northern Ireland. It is a very encouraging start to 2012 and demonstrates how attractive successful local companies are to prospective acquirers.," she said.
At the other end of the scale, two young graduates from Belfast who have only recently launched their cloud computing firm, World Desk, have been bought out by an American firm Desk Stream Inc - again for an undisclosed sum.
The founders and employees of World Desk will continue to be based in Belfast.
Whatever the size of company, the recent flurry of activity in the mergers and acquisitions market bodes well for the coming year.