Youth unemployment soars by 155%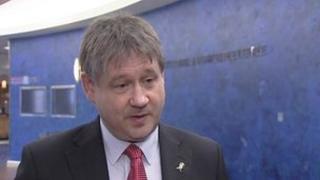 Youth unemployment in Northern Ireland has more than doubled - by 155% - since 2008.
More than one in five young people in Northern Ireland are now without work, the highest rate in the United Kingdom.
Finance Minister Sammy Wilson will re-allocate money on Tuesday that departments were unable to spend.
He faces calls to give DEL (Department for Employment and Learning) a significant amount to help get some of the young people back into work.
Basil McCrea MLA has called for urgent measures to be taken to tackle youth unemployment.
"Unemployment is at its highest since 1997 and approximately 20% of our young people are unemployed," Mr McCrea said.
"Economists warn unemployment will continue to rise in the short and medium term.
"DEL is seeking additional resources to reinstate the Step Ahead programme. I will be watching closely to see if this money is forthcoming. So far little has been achieved."