Priest convicted of sexual abuse has sentence reduced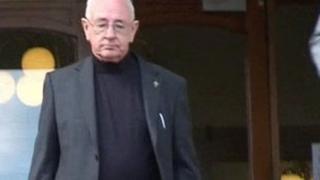 A Catholic priest convicted of sexually abusing three young sisters is to be freed early after partially winning an appeal against his conviction.
Father Eugene Lewis was jailed for four years in September 2010.
The 77-year-old was found guilty of 11 charges of indecent assault between 1963 and 1973. He denied the charges.
On Tuesday, senior judges overturned three of the 11 counts and reduced his prison sentence from four years to two years and nine months.
Reasons for the decision reached by the Court of Appeal in Belfast will be given at a later date.
The abuse took place at the County Fermanagh home of the sisters. They said the abuse began when they were as young as seven.
In May 2010, a jury in Omagh unanimously convicted Lewis, who lived in Dublin before his six-week trial.
During the trial, the jury heard that Lewis had befriended the girls' parents nearly 50 years ago.
Prosecuting QC Ken McMahon said the priest had "wormed his way" into the family and told the jury that although welcomed into their home at anytime, he often chose to call at bedtime or on Saturday bath night.
After the trial, defence solicitor Joe McVeigh said the priest intended to "fight to the last drop of his blood to establish his innocence completely".
'No satisfaction'
During the appeal it emerged that medical records showed one of the complainants was treated in hospital for psychiatric issues.
As part of her therapy she was said to have stated that she had not been abused.
Delivering the judgement, Lord Justice Higgins confirmed the appeal was being allowed on the first three counts of indecent assault.
The court dismissed the challenge against the remaining eight counts on the indictment.
Speaking on Tuesday Mr McVeigh said they welcomed that Lewis would be "released imminently".
"However, whilst we await the written judgment outlining the full rationale behind the decision, Fr Eugene and his legal representatives can take no satisfaction from it given that the convictions on certain counts have been upheld," he said.
He added that the judges may have had concerns over the safety of the convictions relating to one complainant.
"It's the initial view of the defence team that we will pursue our legal arguments that the convictions regarding the other two complainants are also unsafe," he said.