£2m project aims to remove Northern Ireland peace walls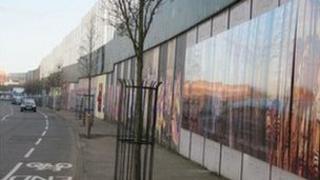 A £2m fund aimed at bringing down NI's peace walls by building confidence between communities has been announced by the International Fund for Ireland.
There are almost 90 barriers separating Protestant and Catholic neighbourhoods across the region.
The vast majority are in Belfast. Ironically, more walls have actually been erected during the peace process.
The IFI project is meant to help break down non-physical barriers before tackling the infamous landmarks.
It acknowledged that the peace walls can only be removed with the support of the people living on each side.
The Peace Walls Programme is designed to be the first stage in a process leading to the removal of the walls.
Promoting reconciliation
The money will fund a range of confidence and relationship-building initiatives within and between interface communities to help them arrive at a position where residents feel it is safe and appropriate for the walls to come down.
The IFI is an independent, internationally-funded organisation promoting reconciliation between unionists and nationalists throughout all of Ireland.
IFI chairman Dr Denis Rooney said while considerable momentum had built up in recent years for the walls to be removed there was still fear in many communities about them coming down too quickly.
"There are some 88 peace walls/barriers, mainly in Belfast, stretching over 21 kilometres in total," he said.
"Since the 1994 ceasefire, the number of barriers has grown. However, many community groups, some with the support of the fund, are doing courageous work across interfaces and in the past few years their conversations have moved towards when, rather than if, the barriers will come down.
"The physical removal of these barriers is a matter for the Department of Justice but the fund believes that its Peace Walls Programme, which is complementary to other initiatives that are under way, will help create dialogue, build trust and confidence and develop greater cross-community cohesion with a view to communities reaching agreement that it is time to start removing the barriers.
"Although there will be clear criteria for funding, this programme will allow applicants to come up with their own solutions and move at their own pace. It will be flexible by recognising that different communities in Belfast and other areas of Northern Ireland are at various stages of both willingness and readiness to move along this path."
Taken down
While there has been some progress on the peace wall issue in some areas - security gates opened at Alexandra Park in north Belfast last summer - in other districts, such as on the Newtownards Road in east Belfast, barriers have been strengthened due to continued interface violence.
Last year Belfast City Council decided to examine whether some of the 40 or so peace walls in the city could be taken down.
Stormont's Justice Minister David Ford has also signalled that a systematic review of the barriers may be undertaken to identify areas where progress can be made.
The Peace Walls Programme has been devised following consultation with all the key stakeholders, including the Department of Justice and the Office of First and Deputy First Minister.
Initially, £2m has been allocated to the programme but the IFI said this could be increased depending on the number and quality of applications.
The fund is inviting expressions of interest from community organisations for financial assistance.
Expressions of interest are available on the fund's website at www.internationalfundforireland.com/media-centre and should be returned to the fund at PO Box 2000, Belfast, BT4 1WD.
It is hoped that programme activity will start in June.