Presbyterian Mutual Society moves against developer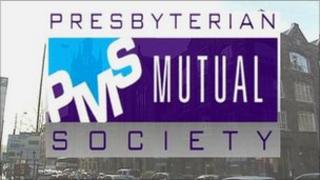 The Presbyterian Mutual Society (PMS) has moved against a property developer by appointing receivers to several sites across NI, the BBC has learned.
The PMS has been in administration since 2008 after savers withdrew their money when it emerged the society was not covered by a government guarantee.
Almost half of the society's £185m loan book related to development land.
In December it appointed receivers to properties owned by Moore Associates (NI) and Li Developments.
The sister companies are based at Main Street in Pomeroy and are part of the troubled SHM Group which is controlled by Samuel Moore.
This is apparently the first major enforcement action the PMS has taken against a large borrower.
Another of Mr Moore's firms went into liquidation in 2009; SH Moore and Sons owed about £86,000 to the PMS but the exposure of the other group firms is understood to be much greater.
Peak of property bubble
The PMS lent the money to the two firms mainly in early 2008, close to the peak of the property bubble.
Since then the value of development land has fallen by up to 90% while investment properties have seen their value halved.
The PMS appointed receivers Colliers International to sites across Northern Ireland on 6 December.
The portfolio stretches from Dervock in north Antrim to Fivemiletown in Tyrone.
It includes a group of houses in the Queen Street area of Ballymoney which was supposed to be the site for an apartment development.
There are also properties in Portadown, Coleraine, Cookstown, Armoy, Kells, Mosside, Clough and Castlecaufield.
It is not yet clear how much is likely to be recouped by the sale of the land and property portfolio.
Other financial institutions have already moved against the SHM Group.
Northern Bank appointed receivers to an apartment development in Ballymena last year. The Ulster Bank and Derbyshire Building Society have also moved on the firm.
An entire estate of three partially built houses and 10 partially built apartments in Ballymena which was being developed by a SHM company is currently on sale for £750,000.