Ex-prisoners to discuss Good Friday Agreement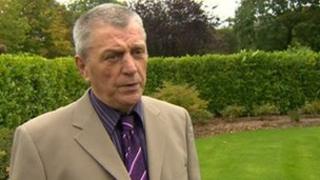 Ex-loyalist and republican prisoners will visit Dublin's Leinster House later to discuss the implementation of the Good Friday Agreement.
Among the attendees will be Jackie McDonald of the UDA and former republican prisoner Rosy McCorley.
The latter was the first republican woman to be released under the agreement.
They will join a discussion on the reintegration of former prisoners back into the community.
It is being held by the Dail's Joint Committee on the Implementation of the Good Friday Agreement.
All 18 of Northern Ireland's MPs can take part in the talks.
The chairman of the committee, Dominic Hannigan, has said the accelerated release of republican and loyalist prisoners "remains for many the most controversial and emotive aspect" of the Good Friday Agreement.
"Our committee is responsible for considering the issues arising for Ireland as a signatory to the Good Friday Agreement and it is in this context that committee members are keen to hear from ex-prisoners on their reintegration back into the community," he said
"The Good Friday Agreement contained a commitment to assist former prisoners in availing of employment opportunities, retraining and further education and the committee looks forward to hearing from the ex-prisoners on their experiences in this regard."