Northern Ireland Assembly hears poker legalisation call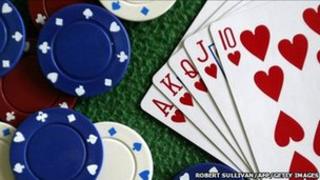 The legalisation of poker clubs in Northern Ireland could create new jobs, MLAs have been told.
Members of the Legalise Poker in Northern Ireland group appealed to the Social Development Committee to allow regulated poker clubs and tournaments.
Glen McCabe from Legalise Poker said the traditional view of poker was of drunk men playing in wild west saloons and river boats.
"This could not be further from the game we love and play," he said.
He explained that there had been a move to close down poker clubs in Northern Ireland around 2006 and local games had gone "underground".
Legalisation could create 150 full-time and part-time jobs, encourage tourism and see the resumption of a cross-community social activity, Mr McCabe said.
Sinn Fein's Fra McCann said he had sat up watching poker games on television and could clearly see it was a game of skill.
He said he had no hang-ups about the legalisation of poker.
Sammy Douglas of the DUP said that, like Mr McCann, he was from the generation where "big lads used to play cards in the street".
His party colleague, Alex Easton, thanked Mr McCabe for his presentation. He added that there was nothing in it that he agreed with but it was fascinating nevertheless.
The committee agreed to write to the department of social development to ask whether it was considering changing the gambling legislation.