IBRC Bank fails to recover £1m from Peter Curistan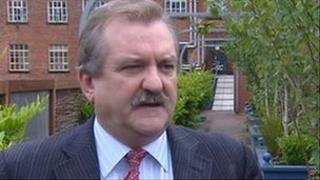 The former Anglo Irish Bank has failed in a legal attempt to recover more than £1m from a Belfast property developer.
The bank claimed it is owed the money by Peter Curistan.
It was seeking an order in respect of loans on two houses and a commercial premises owned by Mr Curistan.
A judge said that the matter will have to go to full trial as Mr Curistan has an arguable case that the bank has behaved improperly.
The Belfast property developer is involved in a wider legal battle with the bank in cases involving loans of more than £70m.
A judge said that the matter of the £1m loans will have to go to full trial as Mr Curistan has an arguable case that the bank has behaved improperly.
Mr Curistan, the developer of the Odyssey Pavilion, could still be found liable to pay the money but he said the outcome of Thursday's proceedings was a victory.
"I'm delighted with another successful outcome against the aggressive Anglo Irish Bank," he said.
"It's the third court that has said I have a substantial, genuine dispute that should be heard in open court, and not treated as a quick-fix for Anglo."
Controversial
The case related to two residential properties in Belfast and County Down and commercial premises at Ballinderry Industrial Estate in Lisburn.
Lawyers for Mr Curistan had linked the case to the extensive and continuing litigation involving Curistan companies which ran the Odyssey Pavillion complex in east Belfast.
The bank, which is now called IBRC, effectively repossessed the Pavilion in May 2010.
Mr Curistan is now suing the bank, alleging fraudulent misrepresentation and negligence over the process to find a buyer for his long-term lease on the Odyssey Pavilion which houses several bars and restaurants.
The case centres on the company identified by the bank as its preferred bidder.
During his litigation, Mr Curistan has managed to bring one of the bank's most controversial and embarrassing episodes into the public domain.
In one of the cases a judge said the bank's so-called "Golden Circle" appeared to be "improper and unlawful".
Mr Justice Deeny was referring to a transaction where the bank loaned 10 of its clients 451m euros which they then used to buy shares in the bank.
The transaction was a share-support scheme, designed to prevent a large number of shares being sold on the open market which would have depressed the bank's value.