Third body found in Cork trawler search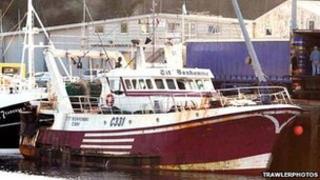 The body of a third fisherman has been found after their trawler went missing off the Cork coast last Sunday morning.
Two fisherman are still missing after the Tit Bonhomme sank in heavy seas.
The recovered body is believed to be one of the two missing Egyptian crew, Wael Mohammed and Saied Ali Eldin.
One man was rescued from the water on the day of the sinking.
The bodies of 26-year-old Egyptian crew member Attia Shaban and student Kevin Kershaw, 21, were recovered on Thursday.
Skipper Michael Hayes, 52, is still missing.
Mr Shaban had been in Ireland for two years and had recently moved to Skibbereen from Union Hall.
He had no other family in Ireland and was from Borg Meghezel, which is in Kafr El Sheikh region of Egypt.
Divers and a search of eight miles on land continued on Sunday, a week on from when the trawler sank.