Western Trust had three baby infection cases last year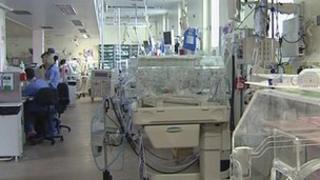 The Western Health Trust dealt with three cases of the pseudomonas infection before last Christmas, the BBC understands.
One baby being treated in Altnagelvin's neo-natal unit died, while another made a full recovery.
A third was transferred to the Royal Victoria hospital in Belfast.
All three infants had a different strain of the infection that is currently being investigated at the Royal Maternity's neo-natal unit.
It has been confirmed that sink taps were the source of the infection at at Altnagelvin.
Meanwhile, the Department of Health has confirmed that it is "highly likely" that a seventh child has been infected at the Royal Jubilee Maternity's neo-natal unit.
The Health Minister, Edwin Poots, is due to make a statement to the assembly later on Tuesday.
Over the past fortnight, three babies have died at the Royal Maternity neo-natal unit after contracting the bacterial infection.
Laboratory tests have yet to confirm the new case, but it is understood the child is very ill with the symptoms of the infection.
An investigation is continuing to try to find the source of the outbreak.
A deep clean was carried out at the weekend and the health minister said the water system is under scrutiny.
In order to kill off the infection, hydrogen peroxide gas was blown inside the sealed intensive care room via a large vaporizing machine.
This permeates everything, including cupboards, drawers, surfaces, bins and any equipment.
Specialists spent the day investigating a range of possible sources.
Taps have been removed, while sinks and the interior of pipes have been checked.
On Monday, Mr Poots said his department was fully across the investigation.
Traces on skin
Five babies have traces of the bacterial infection on their skin.
While it is not affecting their health, they are being closely monitored to make sure it does not enter their blood stream.
Chief Medical Officer Michael McBride said antibiotics might be given as a precaution.
The first baby died on 6 January and the second on 13 January. A third baby died on Thursday night.
Pseudomonas aeruginosa is found widely in soil and stagnant water. It does not usually cause illness in healthy people but can pose a serious threat to people with weak immune systems.