Attwood gives green light for new Lisburn hotel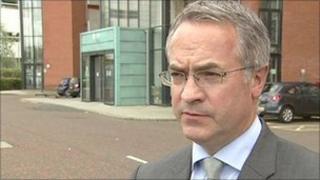 Planning permission has been granted for a new hotel development in Lisburn, County Antrim.
The 100-bedroom hotel, with health suite and functions rooms, will be constructed on the Hillsborough Road.
Environment Minister Alex Attwood said the hotel was expected to create up to 200 jobs.
However, the Northern Ireland Environmental Agency is opposed to the development because of its perceived threat to local wildlife.
It said there was a threat to bats, newts, birds and other wildlife in the fen and wet woodland area.
'Conservation area'
Some locals are also angry - saying the site is one of great natural beauty.
Tommy Mearns, whose house overlooks the Lagan Valley area and the towpath, said he was shocked by the announcement.
"I'm extremely disappointed. I just couldn't believe that someone could make that decision," he said.
"It is going to devastate what is currently a natural conservation area."
But Mr Attwood said he was mindful of the environmental concerns involved and has imposed 21 conditions on the developers, some from the environmental agency.
He said the development would enhance the range of tourist accommodation in the area and boost visitor numbers to the benefit of businesses.
Mr Attwood said the development would provide new and enhanced access arrangements to the River Lagan tow path and a new interpretive centre which would provide information about the Lagan Valley Regional Park.