Report on wind farms is released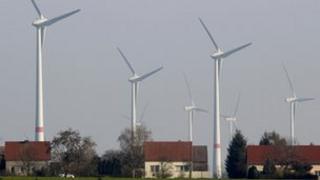 People living near wind farms in Northern Ireland could be missing out on significant amounts of money to fund community projects.
A report being published in Fermanagh claims renewable energy developers pay about four times more into community funds in Britain than they do in NI.
There are 14 community funds in Northern Ireland which receive income from commercial wind farms.
However, it is significantly less than similar schemes in Britain.
Some communities in Scotland own their own wind turbines, earning hundreds of thousands of pounds and helping to pay for projects such as new schools.
No such community ownership exists in Northern Ireland.
Anne Monaghan from the Fermanagh Trust said the Enterprise Minister Arlene Foster had already taken note of their research.
"In other parts of the UK, there are opportunities for communities to own a wind turbine, to part-own a wind farm."
"The amounts being paid into community funds per annum from each megawatt of generated energy were significantly less than the rest of the UK."
The research carried out by the Fermanagh Trust calls for politicians and the renewable energy industry to work more closely with communities to ensure greater financial benefits for those living near the turbines.