Printing jobs to go at news group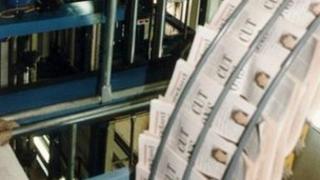 Twenty four jobs are to go at Independent News and Media's printing operation in Belfast following a substantial transfer of production to its plant in Newry.
Independent News owns and prints the Belfast Telegraph at its Royal Avenue premises.
The move will reduce its Independent News and Media's printing workforce in Northern Ireland from 175 to 151.
The company said the decision was based on "economic imperatives".
Richard McClean, deputy chief executive of Independent News and Media, said he deeply regretted the loss of printing jobs in Belfast.
"But the decision means we are securing the future of our business and strengthening our competitiveness," he said.
The company said there would be a number of redeployment opportunities within the Newry operation for those affected in Belfast.
"We aim to implement the job losses voluntarily with enhanced severance terms on offer," said Mr McClean.
The Newry presses will print all weekday editions of the Belfast Telegraph in full colour from mid-March.