Tesco changing room voyeur to undergo treatment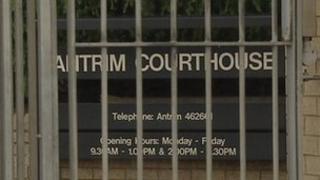 A former prison officer who used his phone to secretly video women in a Tesco changing room is to undergo 18 months of sex offenders' treatment.
Antrim Crown Court heard that 46-year-old Paul Williamson was caught in June 2009 after secretly videoing seven women over a four-month period.
Williamson, of Long Commons, Coleraine, admitted nine charges of voyeurism to obtain sexual gratification.
He will remain on the Sex Offenders' Register for the next five years.
He was also barred from working with vulnerable adults.
Judge Corinne Philpott said the authorities did not consider Williamson a significant risk to the public in the future, and that since being caught in June 2009, he had owned up to what he had done and was now suffering the consequences.
The judge said she also accepted that a remorseful Williamson had voluntarily gone and received treatment from his local mental health services in an attempt to deal with his problems.
Earlier, prosecution lawyer Conor Maguire told the court that a woman, who was trying on bras, alerted Tesco security staff when she spotted what looked like a mobile phone pointing into her cubicle.
The court heard that Williamson immediately handed over his mobile to staff in the Coleraine store, who contacted police who later arrested him for voyeurism.
Mr Maguire said that during interviews the prison officer readily admitted the offences, and that he "was remorseful, and in respect of his actions, wanted to apologise".
A shamed Williamson, he added, also revealed he got sexual gratification from filming women and he caught a number of other women in various states of undress which he later downloaded from his mobile to his computer, where they were later found.
Defence lawyer Seamus McNeill said that Williamson, who now hopes to move and settle in England, had destroyed his marriage and career because of what he had done.
Williamson, he added, had since expressed genuine remorse, and was not simply the remorse of a man sorry for himself at being caught.
A spokesperson for Tesco has confirmed the man was not an employee.