David McNarry, his party leader and a Friday night phone call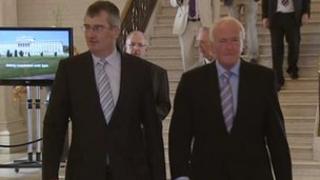 At three minutes to seven on Friday evening, David McNarry got a call from his party leader, and then one of the biggest shocks of his life.
Tom Elliott, after a pleasant exchange and some discussion on the day's events, delivered some news.
He told Mr McNarry he was removing him as deputy chair of the education committee - but not the assembly whip - following an interview he gave to the Belfast Telegraph last Monday.
Mr McNarry was so taken aback, he asked Mr Elliott to repeat what he had just said. Hearing it a second time, Mr McNarry's response was, in his own words, "not repeatable."
Mr McNarry in turn told his party leader that he would be quitting the Ulster Unionist assembly group.
In an interview with BBC News Online this evening, he declared: "I'm shocked, insulted, disappointed and hurt. I have been in the Ulster Unionist party since the age of 15."
Mr McNarry said that he had not foreseen such a sanction.
The UUP MLA for Strangford is at a loss - and insisted that his interview with the Belfast Telegraph - which ignited a furious row inside his party - was given with the full knowledge of his party leader.
Mr Elliott had not commented on Friday.
But Mr McNarry said that he gave the interview to the Belfast Telegraph's political editor after Liam Clarke had pursued him for some days about rumours of talks between the DUP and UUP.
He said he came under renewed pressure from the reporter to do an interview after the DUP leader Peter Robinson did a television interview in which he spoke of his desire for a single unionist party.
Mr McNarry said he made an appointment to meet the reporter at the Stormont Hotel on Thursday 19 January, and answered some of Mr Clarke's questions. But he said he was careful with his words. He said he briefed his party leader both before and after the interview.
An article then appeared in the Belfast Telegraph revealing that Mr McNarry had been in talks with the DUP since the start of the assembly term last May. He said the talks had started with the DUP minister Sammy Wilson but had evolved to include the DUP leader.
This initiative had been kept secret and many members of the Ulster Unionist assembly team - and the wider party - were upset to read about it in the media. There was anger over the initiative at a time when some felt the UUP should be fighting the DUP rather than moving closer.
Conflicting claims
Mr McNarry gave an interview then to the BBC on Monday in which he insisted his party was not for sale, and that the integrity of the UUP brand would be maintained. He spoke of benefits to be had for his party and for unionism in a new relationship with the DUP. And he also spoke about the UUP minister Danny Kennedy attending pre-executive meetings with DUP ministers
Mr McNarry seemed surprised by the "fuss" his interview had caused, and said the initiative followed an election in which both parties were being told on the doorstep to work together. He did not answer some questions about the detail of the meetings including who sanctioned them.
Mr Elliott was away from Stormont when the Belfast Telegraph interview was published but aware that there was disquiet in his group as he had to face an emergency meeting of his party the following day. That was a meeting that was at times heated.
The party leader has declined a broadcast interview. He has said little in public except what he briefly told the News Letter - that his party wasn't for sale and this had been blown out of all proportion.
Amid persistent questions about how closely involved he was in the McNarry initiative, Mr Elliott issued a statement to all party members this afternoon. In what appears to be a response to media speculation about his meetings with Peter Robinson in recent months, he said he had held meetings with other party leaders as well.
In fact the BBC had reported the day before that he had met Mr Robinson - and there were conflicting claims about the nature of the talks. Mr Elliott told his assembly team they were to discuss issues such as justice.
His latest statement sought to reassure the party about the UUP's contact with the DUP. He said it was about exploring areas of cooperation to benefit unionism in general.
He added that the talks were "without prejudice to the interests or integrity of the Ulster Unionist Party".
If Mr Elliott thought this statement would end the matter, he was wrong. Mr McNarry is unlikely to go quietly. Why would he if, as he claimed, he acted with the full knowledge of his party leader?
There is talk among various sources in the UUP that Mr Elliott's leadership has been damaged by the dramatic events of the past week.
Amid all the unanswered questions about the McNarry initiative comes another question: what will Mr McNarry, who is believed to have minutes of meetings with the DUP, do now?
He told the BBC he remains a party member and said he intends to take time to reflect before making his next move.