Woman's body left in bag in Dublin street for 13 hours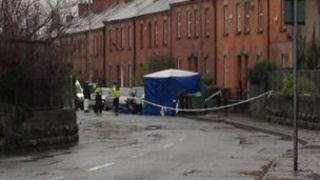 A woman whose body was found in a travel bag in Dublin on Sunday may have been there for about 13 hours, the gardai have said.
The body of the 26-year-old student from Malawi, was discovered at about 08:30 GMT at Blackhorse Avenue in the city.
It is understood she died from asphyxiation. A murder investigation has begun.
Paul Reynolds from RTE said she had not been reported missing.
"She was discovered in a large travel bag which was about two feet by three feet with a plastic bag over her head. She was fully clothed," he told BBC Radio Ulster's Good Morning Ulster Programme.
"The post mortem conducted last night showed she died from asphyxiation, from a lack of oxygen, lack of air. They (police) have to identify whether this was the cause or whether she was attacked, strangled or suffocated."
Mr Reynolds said the bag had been left beside a car, close to some bins which were due to be emptied.
"It was leaning up against that car and when the owner of that car came out on Sunday and drove off, the bag fell and that's when it was discovered.
Appeal for information
"It's very very distressing because this is a residential area. People in the area have said they are extremely shocked by it."
Detectives are trying to trace the woman's last movements and establish where she was killed.
In a statement, they said: "Gardai believe that the luggage bag was placed on the street at some stage on (Saturday) afternoon or evening prior to 19:00 GMT on the 28 January".
Police have been in contact with the Embassy of Malawi in London to try to contact her family.
It is understood that gardai are trying to obtain CCTV footage from traffic cameras on nearby North Circular Road, an army barracks and local shop.
The victim, who will not be officially named until her relatives have been informed, was living in Rathmines in South Dublin and had been in the country for the past two years.