Nesbitt to replace McNarry on Stormont committee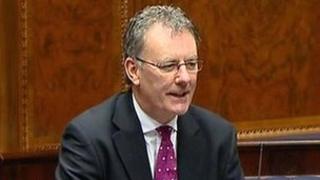 Mike Nesbitt has replaced his UUP colleague David McNarry as deputy chair of the assembly's education committee.
Mr McNarry announced on Friday he was quitting the UUP assembly team after being removed from his post on the committee.
The assembly speaker William Hay made the announcement at the beginning of proceedings on Tuesday.
He said that Mike Nesbitt had been put forward by party leader Tom Elliott and Mr Nesbitt had accepted.
On Monday, Mr Elliott said he demoted Mr McNarry because he went too far in a newspaper interview.
He said he had disciplined Mr McNarry after he told the Belfast Telegraph that a UUP junior minister could work under a DUP first minister.
In response, Mr McNarry refuted Mr Elliott's version of events and told the BBC's Stormont Today programme that the Ulster Unionist leader had become the prisoner of a power struggle within the party.