Earl of Wessex in Northern Ireland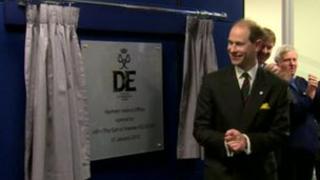 The Earl of Wessex is in Northern Ireland for a series of engagements.
Prince Edward officially opened the Duke of Edinburgh's Award new regional office at Forestgrove Business Park, Belfast.
On arriving the earl was met by the Lord Lieutenant of County Down Mr David Lindsay.
A trustee of the award scheme, he plays an active role in the programme for young people set up by his father in the 1950s.
The mission of the Duke of Edinburgh's Award is to inspire, guide and support young people in their self-development and recognise their achievements.
The Earl of Wessex last visited Northern Ireland in February 2011.