Talks over plans for Beragh police station closure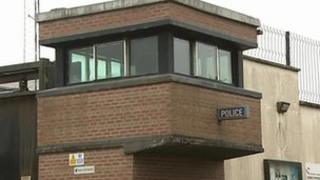 A series of public meetings to discuss the potential closure of rural police stations will begin in Beragh, County Tyrone, on Thursday.
Last December, it was revealed 40% of police stations in Northern Ireland could shut in a PSNI cost-cutting plan.
That meant closing 34 out of 83 stations.
Public meetings will be held in Fintona, Irvinestown and Kesh over the next few weeks about potential closure of stations there.
The PSNI has to save £135m - 14% of its overall budget - in a four-year cost-cutting plan that stretches until April 2015.
It said the station closures were essential for those savings to be made.
The details were revealed to members of the Policing Board in December.
At that time, the PSNI said the closures would not affect community policing.
In 2001, the PSNI inherited 140 stations from the RUC. By 2015, just 49 will remain.
Police said the closures would save £3.5m a year - £2m in rates, maintenance and service contracts, and £1.5m on paying contract security staff to protect the buildings.
The savings would be used to help pay the wages of the 600 extra officers taken from desk jobs to the streets since June 2009.
Of the 34 stations identified for closure, only Bessbrook operates as a full-time response station.
The PSNI is also hoping to cut its vehicle fleet by 16% over five years from next April, representing a reduction of about 300 vehicles.
The police hope to be in a position to proceed with closures, dependant on operational needs, by the beginning of April.