Sean Quinn's family begin fresh court battle with Anglo bank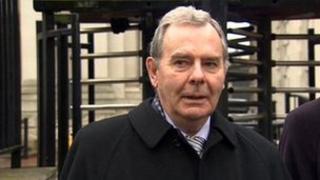 The family of Fermanagh businessman Sean Quinn have begun a legal challenge to a claim they owe the former Anglo Irish Bank over 2.3bn euros.
At a hearing in Dublin, lawyers for Mr Quinn's family said the bank had engaged in "serious illegal activity on a persistent and ongoing basis".
The preliminary hearing is taking place at Dublin's Commerical Court.
If Mr Quinn's wife and children lose, they could follow Mr Quinn into bankruptcy.
The court heard that between October 2005 and July 2007 Sean Quinn had built up a 28% stake in the former Anglo using contracts for difference - a financial instrument used to gamble on the bank share price.
When senior executives at the bank learnt of this "colossal interest" in September 2007, a system was set up whereby money was loaned to the Quinn group to support this share position.
Lawyers for Patricia Quinn and her five adult children are arguing EU market abuse regulations and company law.
Sean Quinn was once believed to be the richest person in Ireland.
He was bankrupted in January over a debt owed to the former Anglo Irish Bank, now the Irish Bank Resolution Corporation (IBRC).
The preliminary hearing will last three days.