Belfast woman accused of poisoning four men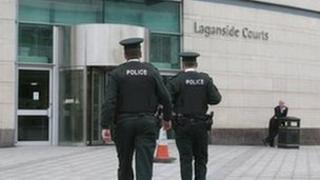 A woman is to stand trial charged with poisoning four men in Belfast, a judge has ruled.
Rebecca Donyam-Phelabare is alleged to have targeted each victim on the same day at an undisclosed location in the city.
The 34-year-old has an address at Brookhill Avenue, Belfast but is believed to have links with France.
She faces four counts of administering poison with intent to injure or aggrieve on August 16 last year.
She spoke to confirm she understood the charges during an appearance before the city's magistrates' court.
Ms Donyam-Phelabare declined to say anything in response to the allegations, give evidence or call witnesses at this stage.
Prosecutors told the preliminary enquiry hearing that there was a prima facie case to answer.
District Judge Fiona Bagnall granted granted their application to have the accused returned for Crown Court trial.
Ms Donyam-Phelabare was remanded back into custody until the case is fully heard.
Her solicitor also sought to have two barristers represent her due to the type of allegations.
But referring to admissions made in the case, Judge Bagnall said she was only prepared to certify for one counsel.