Pseudomonas found in Altnagelvin Hospital tap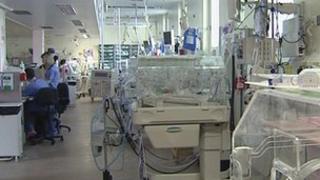 All taps have been replaced at the neo-natal unit at Londonderry's Altnagelvin Hospital after the bacterial infection Pseudomonas was found in one.
A water sampling and tap replacement programme is under way in all of Northern Ireland's neo-natal units.
No babies in Altnagelvin are currently infected.
As previously reported, two babies are colonised, meaning they have Pseudomonas on their skin but are not infected.
Three babies died from the bacterial infection at Belfast's Royal Jubilee Maternity Hospital in January.
In December, another baby died at Altnagelvin Hospital, Londonderry, from a different strain of the infection.
Health Minister Edwin Poots has announced an investigation into the deaths.
The infection in Altnagelvin was detected in a tap there in December following the death of a baby.
That tap was not replaced but cleaned by specialists.
A total of 12 babies are currently being treated for having the infection on their skin - including two in Altnagelvin. This does not mean they are infected.
As a further precaution, only sterile water is being used on babies and strict infection control measures are in place.
This latest cleaning programme by the Public Health Agency, follows guidance from the chief medical officer and the chief estates officer in December when staff were alerted to the risks of Pseudomonas.
That letter set out the actions required to prevent such outbreaks and all the potential consequences.