Man accused of Martin O'Hagan murder jailed for three years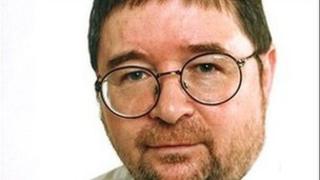 A Lurgan man previously accused of murdering the Sunday World journalist Martin O'Hagan has been jailed for three years.
Neil Hyde, 32, has signed a contract to help the police in return for a reduced sentence for 48 Loyalist Volunteer Force (LVF) linked offences.
Mr O'Hagan, 51, was shot dead in Lurgan in September 2001.
The killing was claimed by the Red Hand Defenders, a cover name used by both the LVF and Ulster Defence Association.
Jailing Hyde at Belfast Crown Court, Judge Patrick Lynch QC told him that if he had not agreed to identify the alleged culprits in Mr O'Hagan's murder and give evidence about the activities of the outlawed LVF, he would have been jailed for 18 years.
He told Hyde, that having been recruited into the LVF in 1996: "By virtue of your size and propensity for violence, it appears that you were useful to the organisation as an enforcer and embarked on a career of sustained criminality over the next 15 years."
Judge Lynch said that in coming to what he believed was the appropriate sentence, he was assuming that prison authorities would take account of the time Hyde had already spent on remand.
He added however that if that were not the case, Hyde could be brought back before the court and he would adjust the sentence.
It is understood that Hyde has been in custody for around 13 months so with time spent on remand and with 50% remission, he could be freed in five months.
Charges
During Hyde's trial, the court heard that while he was being questioned by detectives from the PSNI's Retrospective Murder Review Unit in September 2008, he confessed to a number of offences and formally agreed to help police early in 2009.
He admitted to six charges relating to petrol bombs, nine of affray, drug dealing in cannabis and cocaine, five relating to arson, seven firearms offences, two charges of withholding information in relation to a murder and a wounding.
He also pleaded guilty to robbery and attempted robbery, aggravated burglary, causing actual bodily harm and managing a meeting in support of the LVF.
All the offences occurred on various dates between 1 January 1992 and 24 January 2008.
The court also heard that Hyde told police of the other people involved in Mr O'Hagan's murder.
Speaking outside the court on Friday, Jim McDowell, Sunday World editor and close friend of Mr O'Hagan, said the day's result was "a start".
"For 10 long years we have been fighting for justice for Martin and that was a start today. There are people named in the indictment to which he has confessed - they're clearly there, they're clearly implicated.
"I want the police now to go and get the people, the real LVF killers and drug dealers who murdered my colleague," he said.