BBC NI to mark 30th anniversary of the Billy plays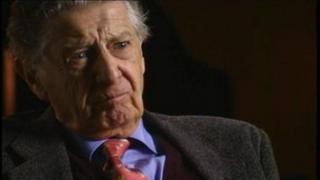 Graham Reid's Billy plays still pack an emotional punch as BBC Northern Ireland prepares to celebrate the 30th anniversary of their screening.
The stormy relationship of Norman Martin (Jimmy Ellis) and his son Billy (Kenneth Branagh) were central to the televised portrayal of a Protestant working class family in Belfast, which engaged a UK audience in the 1980s.
Best known previously for his part as the affable policeman Bert Lynch in Z Cars, Jimmy Ellis recalls that he knew he needed to show his mettle as he sought to clinch the part of a violent alcoholic.
He said: "Chris Parr always tells the story: 'We were a bit worried Jimmy would have the necessary iron to play the part of Norman'.
"He said to me: 'Do you think you are up to playing this part of an obvious hard man?'.
"I stuck my fist right under his jaw and I said: 'Tell me what you think?'.
"I wouldn't say Chris was a hard man and his face was a study, I don't know whether he thought I was going to follow through or not.
"He says in that moment both he and director Paul Seed decided I had got the part."
Jimmy said he had drawn on the emotional reserves of his east Belfast roots for his performance in the plays.
Titanic
However, he said his own father was far removed from the character of Norman.
"My father never touched a drop of alcohol," he added.
"He was a total gentleman but he was a hard man.
"He was a shipyard man and if you couldn't handle yourself in the shipyard you might as well have not taken the job.
"But he also instilled in me - never fight unfairly. He said: 'If you are ever reaching for a broken glass or a bottle you are no son of mine'."
Ellis directed former shipyard worker Sam Thompson's groundbreaking play 'Over the Bridge' in 1960, and many members of his family worked at Harland and Wolff.
His father was a sheet metal worker on the Titanic.
As Belfast prepares to mark the 100th anniversary of the luxury liner's sinking, he reflected on the shadow the tragedy cast over the city during his childhood.
"The Titanic used to be quite an emotional thing in our family, it was a topic of debate," he added.
"My father used to come to the defence that 'it wasn't the workmanship son'.
"He said they were obsessed with speed and breaking records across the Atlantic.
"He blamed it on that and my mother likewise about the poor people who drowned.
"There was a memorial for the Titanic survivors at the front of the City Hall, trams used to go either side of it.
"My mother and father would regularly go down and they would both take me as a child to see it.
"My mother would say: 'Look they are clutching at the robes of an angel as they are drowning and my father would just put his arm around her and say: 'All right Tilly, all right'."
Ellis has performed numerous roles on stage and television over the past six decades, including a number of seasons with the Royal Shakespeare Company.
He said that some memories are stronger than others, and those around the Billy plays are "deep seated".
"My wife saw them recently and she has seen quite a lot of things that I have done," he said.
"She just spontaneously said: 'I think that must be the best thing you have ever done.
"That made me feel quite proud."
A documentary featuring the cast of the plays, Talking To Billy, will be shown this Sunday on BBC Two Northern Ireland at 21:00 GMT.
Too Late To Talk To Billy will be shown this Sunday on BBC Two Northern Ireland at 21:30 GMT.
Let's Talk About Billy will be broadcast on Monday on BBC Radio Ulster at 11:55 GMT.
A Matter Of Choice For Billy will be screened on Sunday, 12 February on BBC Two NI at 21:00 GMT.
A Coming To Terms For Billy will be shown on Sunday, 19 February on BBC Two NI at 21:00 GMT.