Transatlantic flights diverted to Shannon due to snow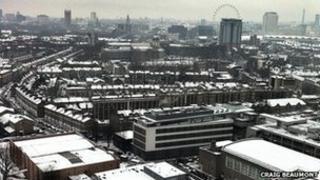 Three of six transatlantic flights diverted to Shannon Airport on Sunday morning because of snow at Heathrow airport, have resumed their journeys.
The British Airways flights, were travelling from the US cities of Denver, Houston, Miami, Washington, Dallas and Atlanta.
Half of the 1,300 scheduled flights at Heathrow were cancelled.
Aer Lingus and Ryanair were also forced to cancel a number of flights as a result of the adverse weather.
Snow swept down to London and East Anglia on Sunday after covering parts of Scotland, Wales, northern England and the Midlands on Saturday.