David Ford announces fixed time plan for criminal cases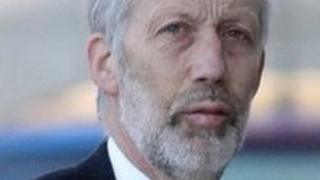 Justice Minister David Ford has announced his intention to introduce fixed time limits to criminal cases.
He said the statutory time limits, recommended by Dr Michael Maguire, chief inspector of the Criminal Justice Inspection (CJI), would result in penalties if not met.
Mr Ford said he intended to apply time limits to the Youth Court "within the lifetime of this assembly".
He said he would consider time limits for adult cases in the future.
Mr Ford said his initial focus was on young people, because delays in their cases could damage a young person's chances of rehabilitation.
He said any proposals would be the subject of a consultation and he was mindful of concerns that time limits should not be applied to the most serious charges.
Justice committee chair Paul Givan of the DUP said it was "an indictment on justice agencies that the introduction of statutory time limits are necessary".
DUP MLA Jim Wells said "some of us are quite uneasy about this proposal".
He said he was concerned about exceeding the time limit and feared it could mean people "could get off scot-free".
He proposed that barristers and solicitors should lose a significant amount of their fee if cases were not brought to court in time.
The TUV's Jim Allister was also critical, claiming the proposal could result in some cases not coming to trial due to the expiry of the time limit.
"The outcome will be that some people who should face justice will not face justice," he said.
The SDLP's Conall McDevitt said that he welcomed Mr Ford's proposals but described them as a total U-turn.
Earlier this month, it emerged that the speed at which some criminal cases in Northern Ireland are completed had slowed since a highly critical report in June 2010.
That was the finding of a follow-up report published by CJI.
It said that, on average, legal cases in Northern Ireland take twice as long as those in England or Wales to pass through the courts.
It can take seven-and-a-half times as long in some youth courts.