Belfast city Tour bus worker convicted of rival attack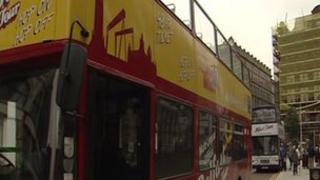 A tour bus worker has been convicted of assault after he punched a rival operator up to 10 times and banged his head off a kiosk in an argument over parking in Belfast city centre.
David Cromie, 36, of Seabourne Parade in the city, was convicted in his absence.
A warrant has been issued for his arrest so he can be sentenced.
Michael Johnston, operations manager with City Sightseeing, Belfast, was attacked in 2009.
Mr Johnston said he was left drifting in an out of consciousness after Cromie kicked and beat him on the ground in front of afternoon shoppers.
He told the court, Cromie, who worked for the rival Allen's Tours, had ordered him to move a bus so one of his could park there, threatening violence if he refused.
Mr Johnston said Cromie, together with a second man, then knocked him to the ground and continued to kick and punch him.
A bus driver for City Sightseeing who saw the beating recalled seeing his colleague going down on one knee after the first blow.
Outside the court Mr Johnston claimed the attack was down to money.
"I was targeted because it was such a successful cash business I had run for over 10 years," he said.
He also claimed to have been subjected to continued intimidation and hit out at the relevant authorities for not intervening.
"This was all about beating me up, stopping me coming to work and getting us to pull out and stop operating there."